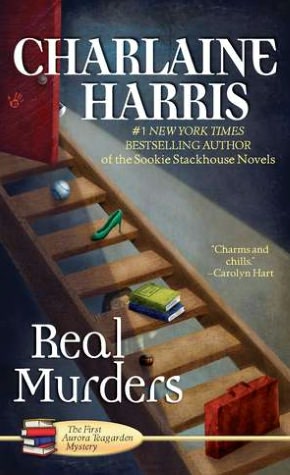 I am completely and totally loving the Aurora Teagarden Series. The series is written by Charlaine Harris, one of my favorite all time authors. She wrote the Sookie Stackhouse Chronicles, which I LOVE! I have read them twice through each. This series, was published in the 90's (?) before the Sookie Stackhouse Chronicles, so I'm a little late to the game. But as the saying goes, "Better late than never." These books are short little mysteries with an absolutely delightful main character, Aurora Teagarden. The book pictured above is the first of the series. I believe there are 8 in all. I am going to start the fifth book right after this post.
I hope you are all doing well. I have been busy these last few days. I've had several photo shoots and a small oven fire. All is fine, but we had to get a new oven. I should mention that it was an oven malfunction and not my cooking. Ironically, before placing my chicken in the oven, I told JoJo, "I hope this doesn't catch on fire." The new oven should arrive in two to four weeks.
I will be participating in a blog hop next weekend, and I will give you more details about it, probably tomorrow.
Have a great Sunday!